Velashock platform combines RF Deep Tissue Massage System with shock wave therapy into a single equipment make a powerful combination for our patients by providing non-invasive fat reduction with skin tightening to achieve exceptional clinical outcomes.
Clinical Proven Results
The above tables show an example of the results achieved by using shockwave machine after Rediofrequency and compares the results with just Radio Frequency only.
Following each 30-minute treatment, patient in Group A were give a 5-minute shock wave treatment. Abdomen was treated with 3500 pulses at 16HZ and 90mj. Both left and right love handle were treated with 1200 pulses each at 16HZ and 90mj
Nothing followed treatments for patients in Group B.
As shown in table 1 and table 2,
Group A with 5-minutes shockwave treatment immediately after weekly treatments showed 64% greater inch loss at 8 weeks when compared to Group B,Significantly greater circumferential reduction on both individual and average records for the combination treatment.
Mechanism of Action
velashape Technology
It provides a synergic use of Radiofrequency, lipo laser and pulse vacuum energies causes deep tissue massage and deep heating of the fat cells adipocytes), connective and the underlying dermal collagen fibers.
Synergistic Use of Energies 
10W lipo laser heats skin & fat tissue up to 13mm depth.
120W Bi-polar radio frequency (RF) heats skin & fat tissue from 5 to15 mm depth.
Plus Vacuum ensures precise delivery of energy.
Mechanical manipulation improves lymphatic drainage and cellulite smoothing.
Superior Efficacy from velashape
1 minute to temperature of 42°C – Unique 150W RF power and consistent energy delivery sustain target temperature throughout the treatment time.
Results seen in single session – Average 2.6 cm circumference reduction.
Effective complementary therapy – Boosts results from other fat destruction procedures, such as ultrasound cavitation, lipo laser and liposuction.
100% response rate – Achieving at least 1.5 cm circumference reduction after 1 session, proven in 42-patient study.
Improve outcomes for body contouring, circumference reduction, cellulite reduction, and skin tightening.
Vacuum RF Applicators for body and facial treatment
Glowing complexion lift treatment
Eye Lift Treatment
Collagen activator firming treatment
Densifing anti-wrinkle treatment
Body line contouring Treatment
Cellular regeneration lift treatment
Adipose tissue dissolving treatment

Shock Wave Therapy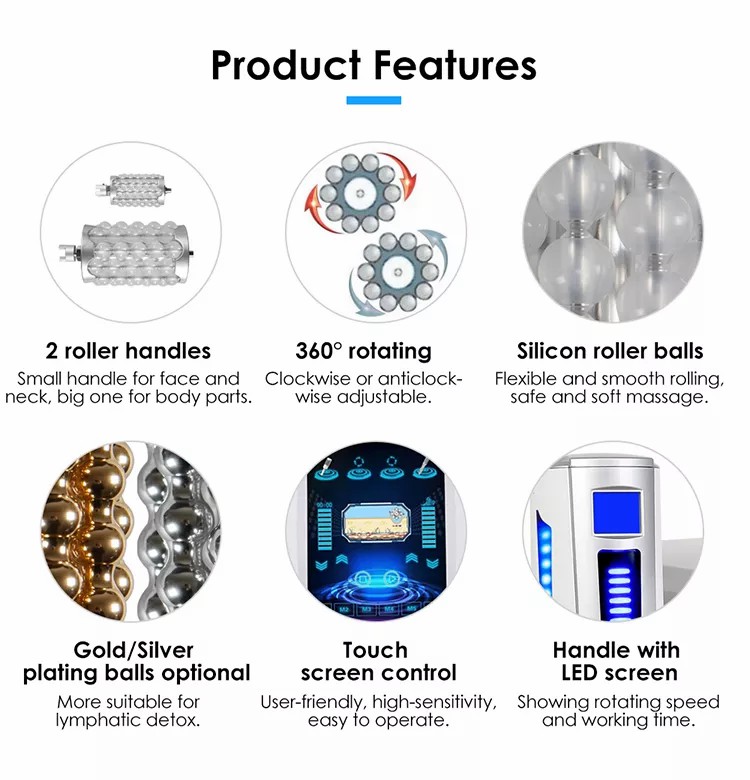 ESWT can improve the results of other noninvasive modalities through its beneficial effects on blood supply and alterations in the permeability of the lipocyte membrane, improvements in cellulite and circumference reduction requires heating of connective tissue for the growth of new and healthier collagen and elasting, this combination platform is also beneficial fat and circumferential reduction.
Under ESWT acoustic wave therapy treatment
Skin elasticity gradually improved and about 73% increase at the end of therapy. At 3 and 6 months follow-up, skin elasticity had even improved by 95% and 105%!
Short high-energy focused waves penetrate deeply into subcutaneous tissue, causes a cavitation phenomenon ( collapse of the gas bubbles within the fat structures ), which can be used for fat destruction.
Long low-energy radial waves are applied to epidermis and dermis, which can be used for improving the elasticity of connective tissue and anti cellulite treatment
---
Post time: Nov-22-2021